Emily Gran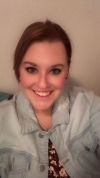 Emily has a Bachelor of Science in Family and Community Services with a Minor in Disability Studies from the University of Wyoming. Emily has been involved in many volunteer organizations some of which include, Special Olympics of Wyoming where she was the State Summer Games Volunteer Coordinator. Her duties included recruiting volunteers for the State Summer Games held in Laramie Wyoming, she also supervised over 100 volunteers over a 3-day period during the games. She was also a coach for the Special Olympics of North Dakota for 4 years.
Emily is the Program Coordinator for Western North Dakota, Healthy Families ND. She has been with Healthy Families North Dakota for 3 years, two of those years the program was under the umbrella of Lutheran Social Services of North Dakota. When LSSND closed in January of 2021, the statewide Healthy Families Team was faced with a major crisis. They had to find another organization to house them, or they would have to discontinue services to over 100 families across the state. When they were unsuccessful in finding a new home, their executive director decided to build a new home, that home would be USpire ND. 
Emily has been on the front lines of bringing Healthy Families to the Western part of the state in 2019, HFND has been in Bismarck and Grand Forks for over 20 years, when she was offered the position, she had to build the program from ground up. After two years old building the program, she was not going to let it fall to the wayside, for the past year Emily and her Dickinson team have been working endlessly to raise awareness of the Healthy Families Program and the services they are able to provide. Emily describes her position at USpire ND, "This isn't a job, it is a passion." She carries this mindset with her to the AHDI board of directors, "It is a passion to serve those in our community by providing resources to help individuals and families succeed and to walk with them on their journey."