Scott Burlingame- President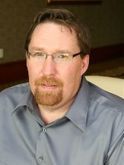 Scott is the Executive Director of Independence Inc., a resource center for independent living in Minot. He has worked in the disability rights movement for 18 years and has worked serving people with disabilities in various roles for more than 24 years. Scott has been appointed by the governor to serve on the State Independent Living Council and the State Rehabilitation Council. Scott has been a member of the AHDI Board of Directors since 2013 and was elected Vice-President in 2018.  
Scott serves on various local and statewide councils and boards including the North Dakota Association of Non-Profits.  Scott is married with 2 kids and enjoys ice fishing in the winter.  Scott also writes for his blog at nonprofitthoughts.com.